Have you noticed they want to take away anything that burns?
cigarettes replaced with ecigs

gas

stoves

replaced with

electric stoves

combustion engines

replaced with

EV's with combustion batteries (haha)

guns (firepower)

replaced with

nothing
Fire is freedom. It means you can generate your own energy. You control it at the source.
Switching you over to electric puts "them" in control, especially with smart meters. Smart meters can even let them control which appliances receive power and which ones don't.
The goal is to convince you that you are selfish and your lifestyle is destroying the planet, and the only moral thing to do would be to give up that power to save the planet. They are weaponizing your desire to do good and turning it on you, making you self-destruct, handing over your power to "them".
The added craziness is that the impact on pollution and carbon output (which is not a pollutant, as they claim it is) is no different. It's just moved from your house to the plant that generates the power.
Did you actually think that electricity is generated without burning something? Energy cannot be created or destroyed, it can only be converted from one form to another. So, if they're generating electricity, they are converting it from something else. How do they convert it? Usually, fire. There is also hydroelectricity, such as is generated from Niagara Falls, but about 80% of the electricity in United States comes from burning something. ( See the chart at: https://www.eia.gov/energyexplained/electricity/how-electricity-is-generated.php)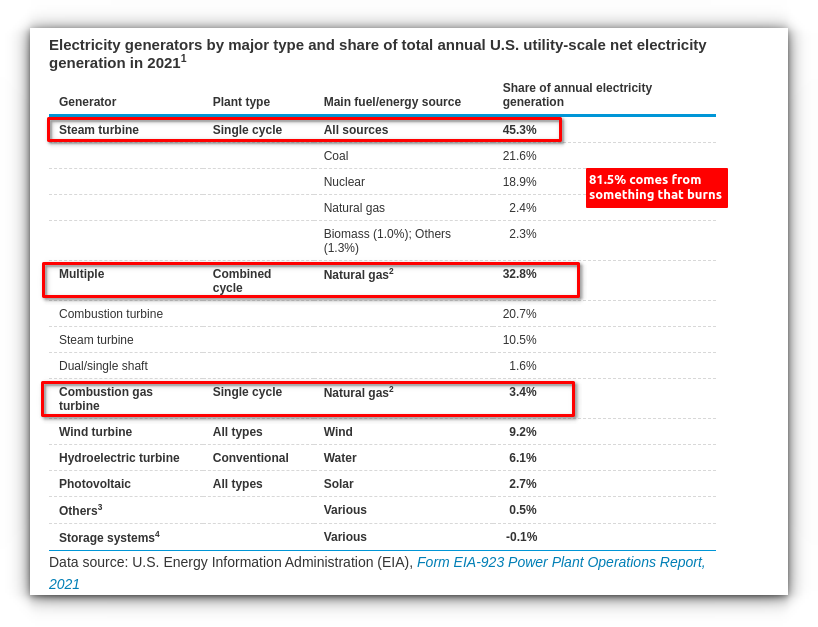 Fire is a power that the slaves should not have, say the slave owners. If they want the benefit of fire, they will pay for it. If you give up your ability to use fire, you are giving up the most fundamental and empowering power known to man.
Combustion is beautiful.